Have you been looking at Udacity Nanodegrees wondering if
they will help you learn in-demand skills or prepare you for a promotion?

Last Updated: June 14, 2022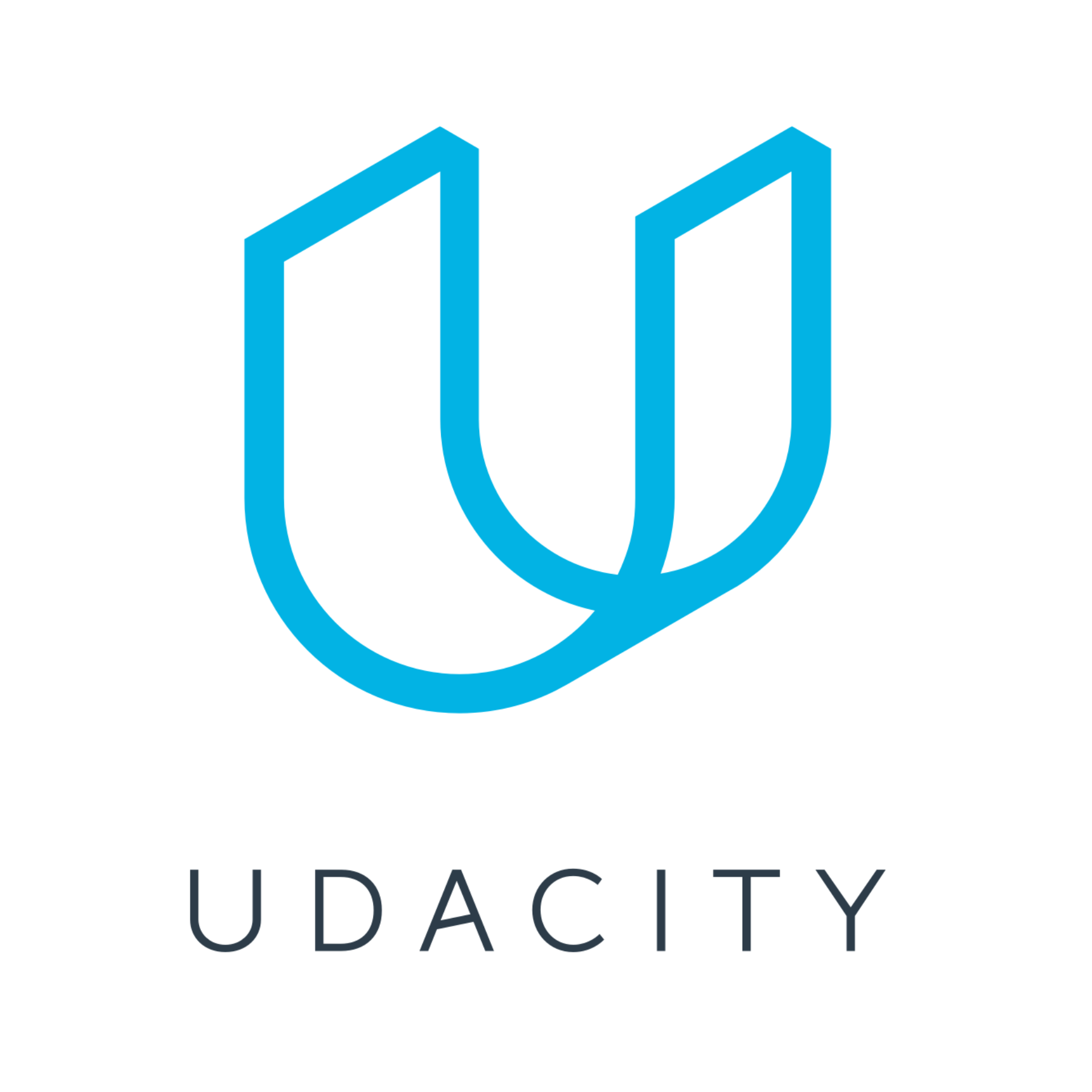 All Udacity Courses on Skill Upgrade
All You Need to Know About the Udacity
Udacity is a digital learning platform that offers industry-focused, intensive online courses called Nanodegrees in areas such as AI, ML, robotics, etc. to lifelong learners across the globe. The Nanodegrees seek to equip even the busiest learners with in-demand skills in technology and business to help them prepare themselves for their dream roles and bolster their career prospects.
Udacity began as an experiment in online learning by Stanford University Professors Sebastian Thrun and Peter Norvig. After seeing the tremendous global response when they opened up their AI course to everyone online in 2011, Thrun, along with co-founders David Stavens and Mike Sokolsky, launched Udacity with a mission to democratize education. They initially offered university-style courses, but later shifted to vocational courses aimed at professionals.
Background of the Founders
Sebastian Thrun is an educator, inventor, scientist, and entrepreneur. He is currently the Chairman and co-founder of Udacity, a professor at Stanford University, and the CEO of Kitty Hawk Corporation, a manufacturer of single-person electric aircraft. He was also a VP at Google, where he founded Google[X] and led Google's self-driving car team.
David Stavens, a scientist and entrepreneur, is the co-founder and President/COO of Udacity and the co-founder and CEO of Nines, a teleradiology practice. He received his Ph.D. in Computer Science from Stanford University and has previously worked with NASA, Qualcomm, and Toyota, among others.
Mike Sokolsky, was the co-founder and CTO of Udacity from 2011 to 2013. He is currently a Product Manager at autonomous driving technology company Waymo and an advisor at lab automation company Artificial, Inc.
How Reputable is Udacity?
Udacity's Search and Google Trends Data
As per Google Trends data, worldwide and US search volumes over the past 12 months for the term Udacity were more or less consistently high. The platform was most popular in Uzbekistan and Egypt, followed by China, Nigeria, and Saudi Arabia.
Funding Raised by Udacity
As of September 30, 2020, Udacity's post-money valuation was in the range of $1B to $10B.
As per Crunchbase, Udacity has raised a total of $240 million across 12 funding rounds. The company's latest funding was raised on September 1, 2021. It has a total of 18 investors, led by Andreessen Horowitz, CRV, Hercules Capital, and Bertelsmann.
Deeper Dive Into Udacity's School Structure
What Will You Need to Enroll at Udacity?
Most courses and Nanodegrees on Udacity do not have any eligibility criteria. However, some intermediate and advanced Nanodegrees may require learners to know specific programming languages, have related experience, or have foundational knowledge.
How much is the tuition at Udacity?
You can pay $399 per month, or opt for the best value pricing to save 15% while being able to access the course for the average number of months that students take to complete the program.
If you choose the best value option but need additional time, you can switch to the monthly model and pay as you go.
Does Udacity Offer Scholarships?
Yes. Udacity has so far launched 10 scholarship programs that are sponsored by Google, AT&T, Bertelsmann, Accenture, and other major companies, benefitting 22,000+ learners. To learn more about the current scholarships or get notified about future opportunities, visit the website and follow their Twitter account.
Does Udacity Offer Free Trials for Their Courses?
Udacity does not offer free trials for its Nanodegree programs. However, it does have a selection of free courses that are available to everyone. You can view them here.
What Are the Unique Programs Offered by Udacity?
In addition to their nanodegrees, Udacity also offers a host of free courses, such as:
Beginner
Intermediate
Advanced

AI Fundamentals
UX Design for Mobile Developers
Intro to Statistics
Intro to Psychology

Linear Algebra Refresher Course
Big Data Analytics in Healthcare
Machine Learning
A/B Testing

Secure and Private AI
Model Building and Validation
Reinforcement Learning
Applied Cryptography
Are Udacity Courses Accredited? Can They Count Towards a University Degree?
No. They are not accredited and do not equal or count toward a university degree.
Upon successful completion of the Nanodegrees, verified students will get a Certificate of Completion for their finished program. No certificates are given for free courses.
Udacity Course Delivery Details
Cohort Size
The courses offered by Udacity are MOOCs (Massive Open Online Courses) that don't have an upper limit on the cohort size.
Sample Syllabus
Udacity's course syllabi are available for download on each course's page. You can view the Data Engineer Nanodegree syllabus here.
Course Duration
The Nanodegrees are self-paced courses that can typically be completed within 3-6 months, with students expected to commit 5-10 hours per week. The duration of Udacity's free courses range from 1 day to 6 months.
Materials Provided
The courses include immersive classroom content and video modules that are created in collaboration with seasoned domain experts and top companies in the industry. The course content is regularly updated and upgraded to reflect industry demand and trends. Even after graduation, learners will have static access to the classroom content for 12 months after their last billing cycle.
Auto-graded quizzes and ongoing resources are included to help students learn more effectively. After every lesson, there are problem sets with exercises to help reaffirm learning. Workspaces are included for easier checking of coding quality and output.
Mentorship Programs
Learners have 24/7 access to Udacity's highly-vetted, knowledgeable technical mentors through the Knowledge Q&A platform. Learners can post questions to mentors by using the 'Ask a Mentor' option on the platform.
Mentors have an average response time of one hour, so students can get their questions answered and generally keep themselves on track. However, owing to the high volume of tickets, there could be delay at times.
Experienced project reviewers offer personalized feedback on students' projects, typically within 24-48 hours of submission.
Projects and Assignments
Every Nanodegree includes at least one real-world project to help you apply concepts in praxis. There are no assignments.
Grading System
Udacity has a rubric against which Projects are graded by professional reviewers. Students will receive a "Meets Specifications" grade if the rubric requirements are met by their project. Otherwise, they will get a "Requires Changes" grade. Students can get feedback from mentors and reviewers and resubmit their projects.
Hours of Live Instruction Per Week
There are no live sessions.
Are There Teaching Assistants?
There are no teaching assistants, but Udacity has a team of over 1,400 mentors to answer their students' technical questions.
Are there Discussion Sessions Over Zoom or Similar Platforms?
No. However, students can take advantage of the large Udacity Support Community, Udacity Support Center, and Customer Support to get their queries resolved and start discussions. For course and content-related queries, students can use Knowledge, a wiki of sorts for Udacity.
Companies That Have Partnered with Udacity
Udacity partners with innovative companies across the globe to develop course curricula that reflect the current market demands and equip students with in-demand skills. Here are some of the companies Udacity is partnered with:
Microsoft
Accenture
Amazon
GitHub
Nvidia
BMW
Notable Udacity Instructors
Udacity's course instructors include several accomplished academicians, industry stalwarts, and seasoned professionals from Fortune 500 and Global 2000 companies. Here are some of the platform's notable instructors:
Udacity founder Sebastian Thrun – instructor, Flying Car and Autonomous Flight Engineer Nanodegree
Enveda Therapeutics CTO Ed Wiley – instructor, Data Science for Business Leaders Executive Program
Troposcale LLC Founder and CEO Sanjay Agrawal – Instructor, Cloud Computing for Business Leaders Executive Program
PJ Professional IT Services Founder Paul Oyelakin – instructor, Ethical Hacker Nanodegree
AON Disaster Recovery Specialist Leslie Bell – instructor, AWS Cloud Architect Nanodegree
Ursa CTO Gabriel Ruttner – instructor, Cloud Developer Nanodegree
AP Security Engineer Milind Adari – instructor, Enterprise Security Nanodegree
Career resources offered by Udacity
Udacity offers a range of career services to help you flourish in your career, land your dream job or get the promotion you have been eyeing. These include resume support, GitHub portfolio review, LinkedIn profile optimization, exclusive access to job postings, and much more. In addition, Udacity also offers several free courses for career advancement:
Product Manager Interview Preparation
Craft Your Cover Letter
Refresh Your Resume
Strengthen Your LinkedIn Network & Brand
Data Science Interview Prep
Machine Learning Interview Preparation
Front-End Interview Prep
Full-Stack Interview Prep
Data Structures and Algorithms in Swift
iOS Interview Prep
VR Interview Prep

"This experience has absolutely changed my life — I wouldn't have a job right now otherwise." — Oscar Estrada
"I think where the real value lies in Udacity's approach to learning is how the people at Udacity make you feel about your accomplishments." — Cheryl Court
Udacity Reviews from Reputable Publications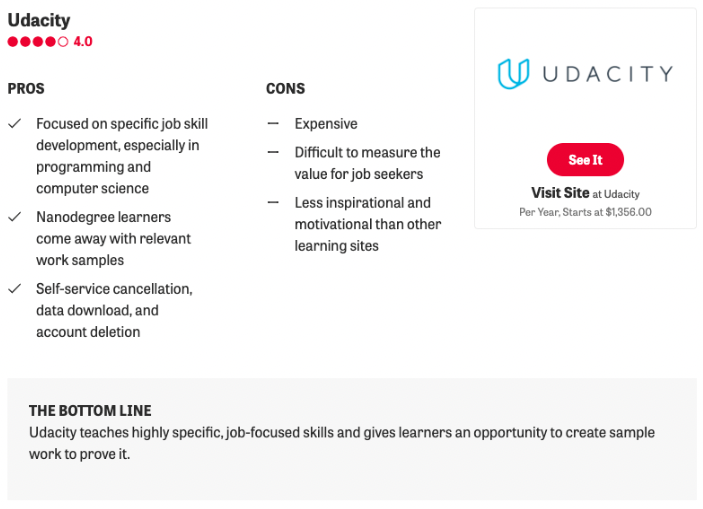 Duffy gave Udacity a rating of 4 out of 5 (Excellent).
"Udacity's courses are job-centric and teach highly applicable skills. If you need to learn a particular job skill, especially if it's related to technology and computing, it's certainly worth looking at Udacity's Nanodegree catalog to see if it's offered. The syllabus will even tell you if you'll come away from the completed program with work samples to share with potential employers.
Udacity fills a niche—teaching on-the-job skills that are highly specific and mostly technical—and you shouldn't confuse it with an accredited degree. Though the prices are a little steep, if there's a skill you need to acquire and you want work samples to prove it, it's definitely worth checking to see if Udacity teaches it."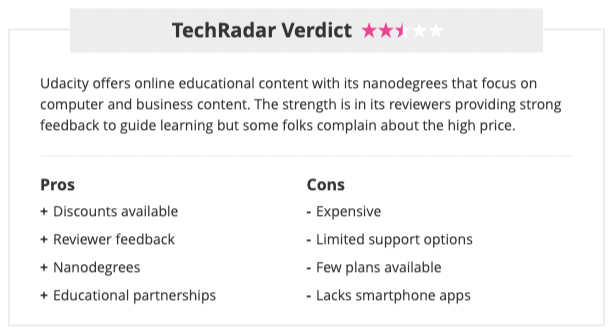 DeMuro gives Udacity a rating of 2.5 out of 5, writing:
"Udacity provides an online learning platform for acquiring a new skill with its nanodegrees. The pros include the practical education, the robust reviews, and the detailed syllabus to help to decide to pursue the education. The cons cover the expensive price (although some discounts are available), the lack of support options, and the missing smartphone apps. While we like the choice of courses, realize that there are more affordable options out there to pursue."
Udacity Reviews from Students
In this G2 review, Marcus H, a consultant, writes that the best things about the Nanodegrees are the projects and the feedback that students receive as these help build valuable skills. He disliked the peer chat channels on the platform, citing that he found it hard to find answers from previous students as there is a lot going on in the thread.
In this Trustpilot Udacity review, Patricia writes that the Nanodegree is a good course, with comprehensive materials and tutors who answer questions promptly. A major downside, according to her, is that some of the data is outdated and some of the examples would not work out of the box. Students must search for an older version of the libraries used, or search in the student forum for more recent examples.
Harvard University vs Udacity Comparison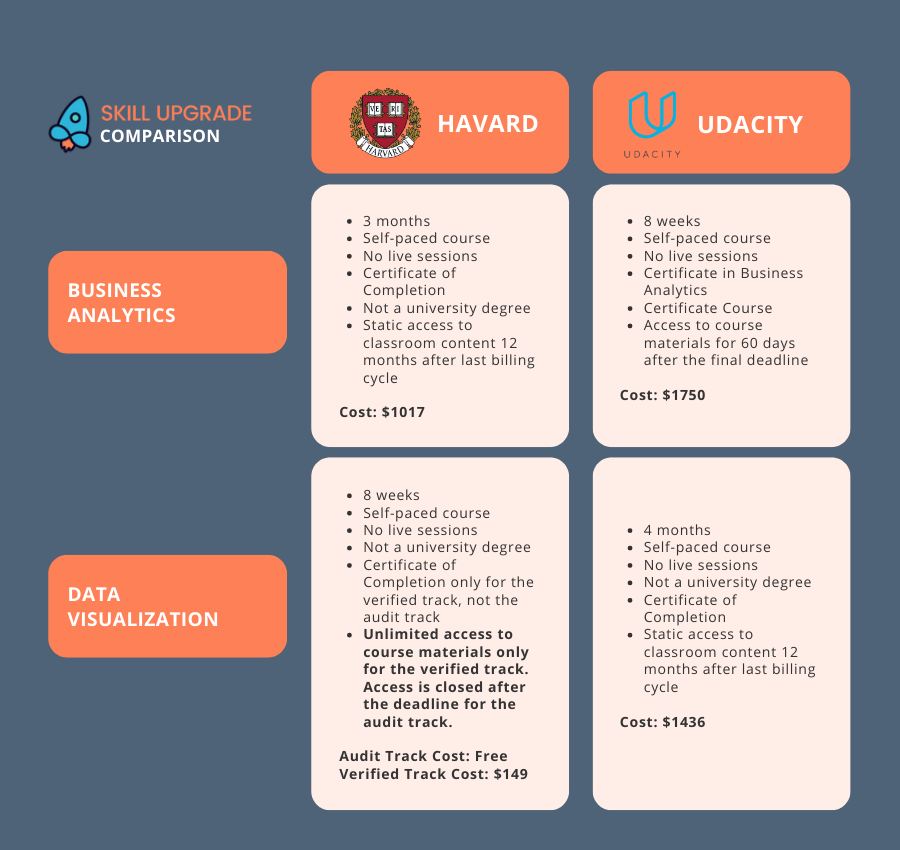 Our 2022 Review of Udacity
Udacity is perfect for you if you are seeking in-depth knowledge in computer science, technology, and related fields, or if you are looking to upskill for in-demand roles in the current market. You must be willing to go beyond the classroom content to really engage in projects and other exercises to convert your theoretical knowledge into real-world skills.
The Pros
Wide range of well-designed, intensive courses in technology and business
Industry-focused curriculum developed in partnership with industry experts and top-tier companies
Courses built around in-demand skills in technology including data science, robotics, and AI
Taught by seasoned industry experts
Self-paced, flexible learning suited for busy professionals
Graded, real-world projects and unlimited access to mentors and project reviewers
Simple and hassle-free user interface
Abundance of high-quality career tools and services
200+ free courses offered
The Cons
Nanodegrees can get pricey, especially if you don't stick to their suggested timelines
Not practical enough unless the student takes initiative and engages in further learning
Very niche-focused unlike other platforms
Lack of live human contact with no live sessions, one-on-one mentorship sessions or live discussion forums.
Nanodegrees do not count towards a university degree
Despite its pricing, Udacity is an excellent platform
to power up your skill set and forge ahead in your career.
Browse Other Course Topics