Revenue operations, AKA rev-ops, is a critical function for businesses of all sizes. It involves aligning sales, marketing, and customer success teams into a single pipeline with the goal of maximizing revenue and driving growth.
If you're looking to learn more about rev-ops or want to apply it in your organization, online courses are a great launchpad.
Below are some of the best online courses you can take to learn about revenue operations. This curation offers a range of options, from intensive cohorts to malleable paths. This way, you can find the right fit for your needs, budget, and schedule.
Pavilion is a noteworthy training platform offering online courses. It's dedicated to introducing modern principles, best practices, and the technology of revenue operations.
The Introduction to RevOps course gives learners an overview of the principles, processes, and best practices for running a modern and successful RevOps machine. Intro To RevOps is one of the most popular Pavilion courses, guiding learners through the entire revenue cycle from pre-sale to post-sale activity optimization, discussing marketing, sales operations, customer success, analytics, and more.
Through comprehensive instruction and interactive activities, learners cover the main areas of rev-ops:
People & Culture: hiring and 'people-ops'
Processes & Systems: establishing operating cadence
Analytics & Measurement: creating forecasting models
Automation & Efficiency: optimizing performance through automation and payment strategies.
The course takes 4 weeks, issued out as sessions that can be taken one after the other. The fee is EUR1000/year for the lowest tier, and subscriptions cover all learning costs.
This learning material is part of the B2B Go-to-Market Strategy: How to Transform Your Business LinkedIn Learning course delivered by Sangram Vajre. The bigger picture focuses on going to market, with the 15-video series proving the value of RevOps.
This course is best for those keen to learn about engineering a sales process that's measurable, predictable, and best of all, repeatable.
Courses included in the two-part playbook include:
Realizing the go-to-market plan that maps to a good customer experience
Stakeholder alignment in sound go-to-market strategies
Fishing out the perfect customer avatar for niche businesses
Scaling B2B model businesses
When the rest of the (fourteen) learning modules fall into place, you will appreciate the importance of an agile revenue operations process and the role it plays within the go-to-market strategy. You will also understand how to budget for and establish a rev-ops team, as well as its capabilities.
The course runs at the learner's pace and costs USD18.95 including the modules in the course bundle.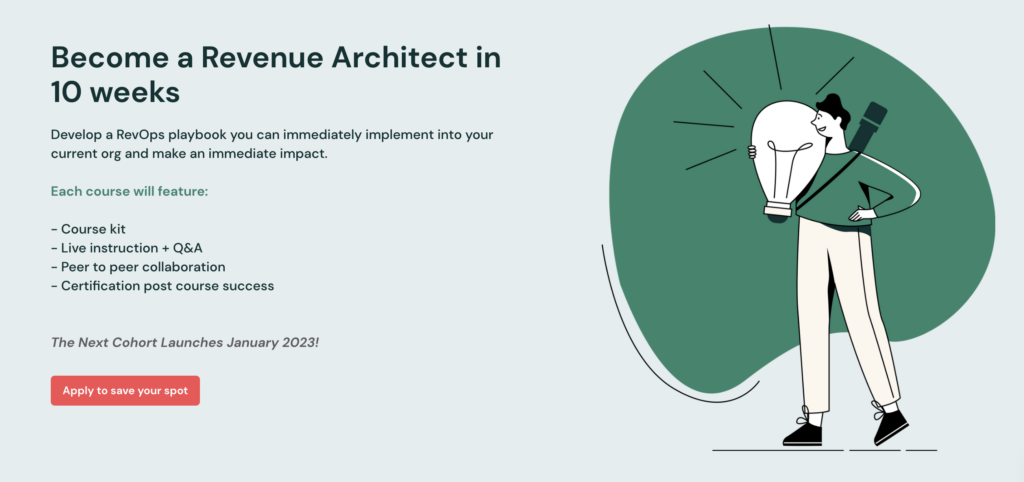 RevOps Co-op's Unleasing ROI course is aimed at transforming learners into revenue architects in the span of ten weeks through live interactive instruction. It's also an opportune moment to network with other rev-ops professionals.
This comprehensive cohort-based course will introduce you to the concept and define ‌rev-ops. It also explores key considerations and challenges related to its implementation, all the while providing valuable resources and actionable best practices. It even provides learners with cheat sheets they can use on the ground.
Some of the course modules include:
Customer acquisition and retention strategy design and implementation
How to run a 'tight ship' – business process design, policy formulation, and more
Goal setting and KPI monitoring/management and optimization
Building engines – marketing, sales, and customer success
The course costs USD1,749. All the knowledge dissipated is perfect for individuals and groups across the rev-ops pipeline and beyond.
Revenue Operations Courses from CXL
CXL doesn't have a single course package labeled 'RevOps'. Instead, their instructors assist learners to navigate its plethora of courses and mini degrees to gain relevant industry-applicable knowledge to the same effect.
To a great extent, this approach is centered on the fact that, in the same way business models and objectives differ from one company to another, no rev-ops team is equal and identical to the next. Here are some courses you can study:
Product Marketing
Digital Analytics (sales, BigQuery, and more)
Google marketing tools (Ads, Analytics, Data Studio, Shopping, Tag manager
Radical Differentiation
A single subscription tier covers all the courses listed above, and more. The lowest learning tier starts at USD1,499. Course availability depends on the number of learners per organization and the knowledge level upon enrolment.
Going through all the courses above requires a time commitment of 10-15 hours per week, at the learner's own pace.
HubSpot offers a nine-part course that delivers rev-ops skills to learners for free. The six-hour-long course uses video lessons and quizzes to impart industry-relevant knowledge.
Some modules learners will interface within this certification include:
Creating sales processes
Building competent rev-ops teams
Measuring and patching rev-ops strategies
How to manage rev-ops on the ground
Throughout the modules, learners will gain skills in building and implementing rev-ops strategies to meet their organization's needs and excel professionally. They'll also have access to extra resources such as white papers, templates, and more throughout the HubSpot platform.
Choosing a good RevOps course
Revenue operations are a crucial function for businesses looking to drive growth and maximize revenue. Online courses can provide a convenient and flexible way to learn about rev-ops and gain the skills and knowledge needed to implement it in your organization.
Taking a course on a rev-ops-specific topic can be a good way to learn new skills and gain knowledge in a structured and focused way. It can also be an opportunity to network with other professionals and potentially improve your career prospects.
However, whether a specific rev-ops course is worth taking would depend on many factors, including the content quality, the expertise of the instructors, and the cost of the course. It's important to take note of the research above and consider these factors before deciding whether a particular course is worth taking.