In this Section4 review, we delve into what the education platform founded by Professor Scott Galloway has to offer, the pros and cons, and whether you should become a member.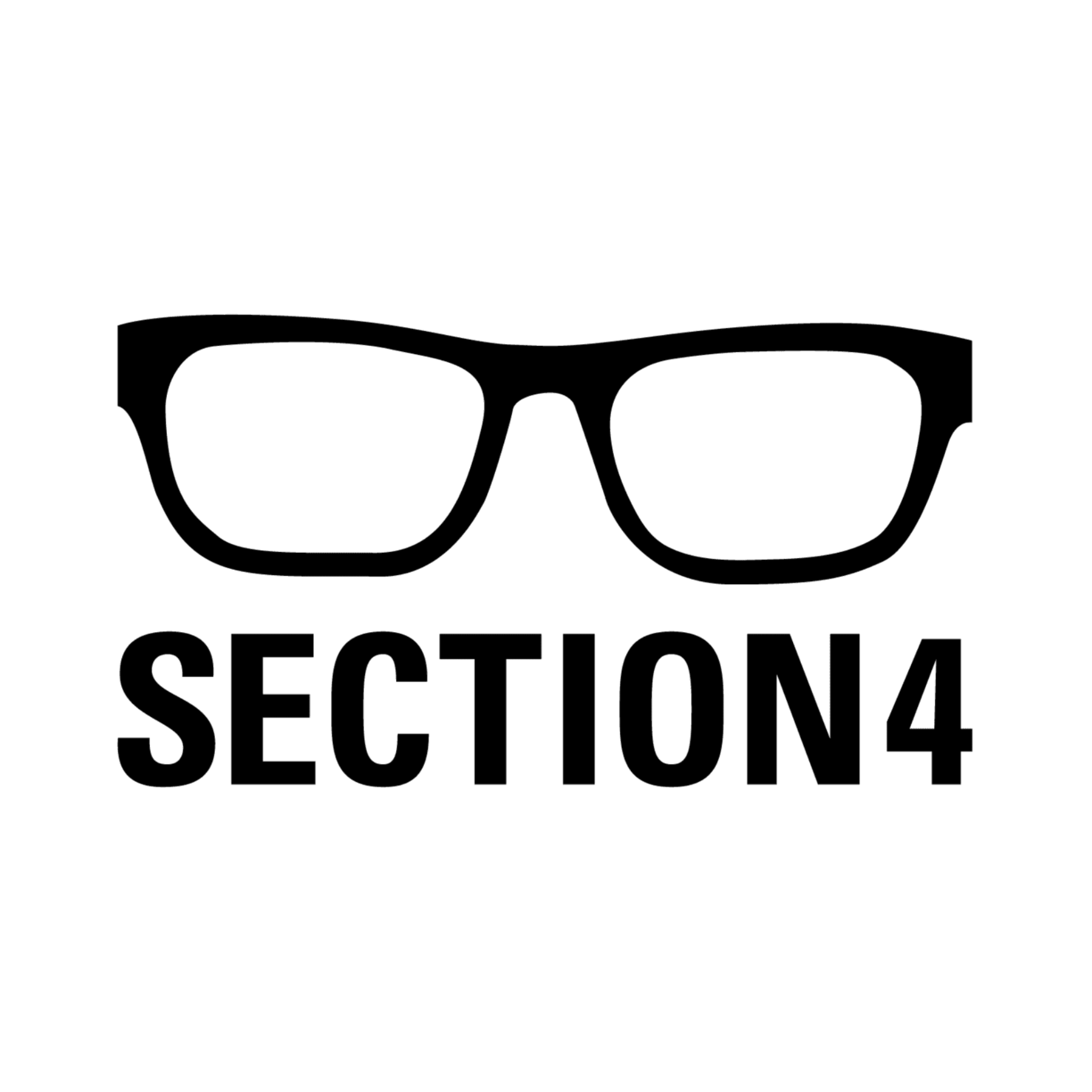 All Section4 Courses on Skill Upgrade
All You Need to Know About Section4
Founded by Scott Galloway in 2019, Section4 is an online education platform that seeks to democratize business education and make it accessible to all. The courses, called sprints, are two to three weeks long and are taught by business leaders and prominent professors from top schools. The sprints are described as costing 10% of the price of elite business degrees and 1% of their friction while delivering 80% of the educational value.
The proprietary sprint format equips curious, ambitious professionals across the globe with the necessary business know-how and skills to thrive in the current growth economy. Designed with busy working professionals in mind, the sprints are intensive, engaging, and hands-on, providing actionable insights that can be applied instantly at work.
Section4 was founded in 2019 by serial entrepreneur and NYU Stern Professor Scott Galloway. This unique platform aims to upskill working professionals and help them forge ahead in their careers using their newly acquired business skills and know-how, at a fraction of the time and cost of elite business education.
Section4 has successfully educated 15,000+ professionals from 97 countries thus far.
Background of the Founders
Scott Galloway is a Professor of Marketing at NYU Stern and is one of the world's 50 best business school professors. He earned his Bachelor of Arts degree in Economics from UCLA and graduated with his MBA from the UC Berkeley Haas School of Business.
As of writing, Section4 is Galloway's latest venture—and his first in the online education space. A serial entrepreneur, he is also the founder of brand marketing consultancy Prophet, e-commerce site Red Envelope, and digital intelligence firm L2 Inc.
Galloway has authored four bestselling books: The Four, The Algebra of Happiness, Post Corona: From Crisis to Opportunity, and Adrift: America in 100 Charts. He runs a blog called No Mercy / No Malice, and he hosts of the podcasts Prof G Pod and Pivot (which he co-hosts with tech journalist Kara Swisher). He also gained prominence in recent years thanks to his bold predictions and editorials, in particular an article criticizing WeWork's S-1 filing. As a result of backlash from Galloway and others, WeWork's board stepped in, removed the CEO, and shelved plans to go public.
How Reputable is Section4?
As per Google Trends Data, Section4 has the highest proportion of search volumes and search interest in the US as compared to the worldwide data in the past year. In Canada, the search interest and volumes for Section4 are second highest globally, followed by Japan, UK, and India. The terms 'Brand' and 'Strategist' were breakout-related topics in the same time period.
Funding Raised by Section4
As per Crunchbase data, Section4 has raised $37 million in funding across two rounds. In its venture round in December 2018, the online education startup raised $7 million. In its Series A round in March 2021, Section4 raised another $30 million from 3 investors – General Catalyst, Learn Capital, and GSV Ventures. General Catalyst is its lead investor.
Deeper Dive Into Section4's School Structure
What Will You Need to Enroll at Section4?
There are no eligibility criteria to enroll in the Section4 sprints. Anyone interested in upskilling themselves and accelerating career growth can take these courses.
How much is the tuition at Section4?
Earlier Section4 had a course-based fee model. In March 2022, they shifted to a membership model with unlimited access to their sprints; one can no longer purchase sprints separately.
Memberships cost $83 per month billed annually. Members have unlimited access to sprints and the live programming such as weekly events, live lectures, member-only events, professional coaching services, etc.
For more details, click here.
Does Section4 Offer Scholarships?
Yes. Scholarships are awarded to level the playing field and make elite business education truly accessible to all. Currently, scholarships are open to:
People of color

Women

Veterans

LGBTQ+ individuals

Anyone without the means to afford a sprint
A portion of the membership seats are dedicated to scholars every month. Scholars get access to Section4 membership for 12 months and unlimited sprints. Not every applicant may get access, but those who aren't selected are added to the waitlist.
To learn more about the scholarships and apply, click here.
Does Section4 Offer Free Trials for Their Courses?
No. Free trials are not offered.
What are the Courses Offered by Reforge?
Reforge offers cohort-based, application-oriented programs that are built and led by seasoned executives from top-tier companies. The platform offers three cohorts a year, and members can take one program (called live programs) per cohort as part of their membership.
Cross-functional Growth Programs
Product Programs
Engineering Programs
Marketing Programs

Growth Series
Retention and Engagement
Experimentation and Technique
Monetization & Pricing
Advanced Growth Strategy

Product Strategy
Scaling Product Delivery
Product Leadership
User Insights for Product Decisions
Product Management Foundations
Mastering Product Management
Data For Product Management

Technical Strategy

Engineering Management

Marketing Strategy
Are Section4 Courses Accredited? Can They Count Towards a University Degree?
No. The sprints are not accredited and do not equal a degree from a university. The sprints are effective ways to gain business skills and know-how offered by elite degrees but at a fraction of the cost and time. These sprints offer immediately actionable insights that can be applied to the learner's work instantly.
However, learners who have watched all the video lessons and case studies and completed the project are provided with a LinkedIn badge and a printable Certificate of Completion. The course certificates come from Credly's Acclaim platform.
Section4 Course Delivery Details
Cohort Size

There is no upper limit on the cohort size or memberships.

Sample Syllabus

Here are

sample syllabi

for Section4's sprints.

Duration of Program

Section4's sprints are 2-3 weeks long.

Materials Provided

The sprint experience is a mix of: 

recorded video modules (including lessons & case studies) released synchronously

livestream lectures led by the course professor

live events hosted by teaching assistants

always-on participation opportunities via our Slack channel

When you enroll in a Sprint, you'll have access to the following:

The Sprint Center: Your home base for all content including modules, lessons, case studies, livestream links/recordings, and project instructions. 

A Slack channel: Discuss sprint content, meet your cohort/section, and work through your project. You will receive an email invitation to sign up for Slack.

Sprint Workbook: Use this workbook to complete your homework after each module.

Each sprint includes 2-3 hours of pre-recorded video

and related resources such as readings, podcasts, and sample projects

. The livestreams are 90 minutes long and include professor Q&A from students.

Live classes, guest lectures, live case discussions, and Live Kick-Off sessions are recorded. Recordings will be posted within 3 hours of the class end time.

The Cohort Meetups and Project Workshops are not recorded.

Mentorship Programs

There are no mentorship programs, but learners do have access to a global community of peers and industry experts they can meaningfully engage with. Members can participate in community-driven events and use the Membership Directory to expand their network.

They can also participate in Section4's member matchmaking program, where members are paired based on the challenges they are facing or the types of connections they want to make.

Projects and Assignments

Section4

provides a sprint workbook to help students apply their learnings at work and facilitate community interaction. These are optional but encouraged, since they help make the content more relevant and applicable.

Hours of Live Instruction Per Week

Livestream lectures led by the professors are 90 minutes long and include Q&A from students.

Are There Teaching Assistants?

Yes—they also host live events.

Are there Discussion Sessions Over Zoom or Similar Platforms?

Questions for live classes are collected via Slack and are screened by the Section4 team.

Are there small group discussions on Discord, Slack, or other messaging platforms?

Yes, students can discuss with each other via Slack.
Notable Reforge Instructors
Section4  takes pride in hiring instructors who are leaders in their respective fields. Here are a few of its notable instructors:
Scott Galloway: C

linical Professor of Marketing at the New York University Stern School of Business, and a public speaker, author, podcast host, and entrepreneur

Adam Alter:

Professor of Marketing at the New York University Stern School of Business

Tom Davenport:

Professor of Information Technology and Management at Babson College; Co-Founder of the International Institute for Analytics

Sara Beckman:

Co-Director, Management of Technology Program at the Haas School of Business, University of California Berkeley

Julie Channing: F

ormer Global VP OF Marketing at Allbirds

Karan Girotra:

Professor of Operations, Technology and Information Management at Cornell Tech

April Dunford:

Positioning expert and bestselling author

Marcus Collins:

Head of Planning, Wieden+Kennedy in New York; Clinical Marketing Professor, Ross School of Business, University of Michigan

Nir Eyal:

Bestselling author and former lecturer at the Stanford Graduate School of Business

Will Storr: author, journalist, and photographer
Michael Bungay Stanier: author, "The Coaching Habit"; founder, Box of Crayons
How Does Reforge Set You Up for Success?
Career resources offered by Reforge
Reforge programs are designed by the best minds in the tech industry who have pushed the envelope on their jobs and pushed the frontiers of knowledge in the industry. The courses capture their wealth of knowledge and original thinking and as such, cannot be found elsewhere.
The courses are continuously updated to ensure that they reflect the latest developments and emerging trends in the industry. Reforge partners also contribute to the Reforge Career Accelerator programs.

Career resources offered by Udacity
Section4 has a Thought Partner Program and curated member matching to help members to grow with honest, personalized career advice and feedback on their work and career trajectory from seasoned professionals. Thought Partners are a team of seasoned practitioners who serve as coaches, brainstorming partners and sounding boards to the members to help them tackle career-related goals and challenges.
Learners also gain access to a global community of professionals from diverse backgrounds. Learners can engage in meaningful discussions with the cohort. Community-driven events are important spaces to interact and connect with the peer network.
Though there is no job board at present. Members can leverage the Member Directory to identify and make great connections with the right people in the peer network who are willing to help.
"Exclusivity in education is hampering our economy and society, to the benefit of a small number of people at the top," said [Scott] Galloway. "We have ambitious plans to educate hundreds of thousands of students by offering unlimited access to our curriculum at a very affordable price."
"Elite MBA education is the most scarce product in the world," [Scott] Galloway told Insider last week. "Globally recognized, transformative in value, and available to less than .01% of the population. We aim to change that."
"Working with top business professors and practitioners, [Section4] distills MBA-quality courses into two- to three-week sprints in topics such as Product Positioning, Brand Strategy, Data & Analytics, Customer-Centered Innovation and more. Sprints are designed to be short, intense, and instantly applicable."
Reforge Reviews from Reputable Publications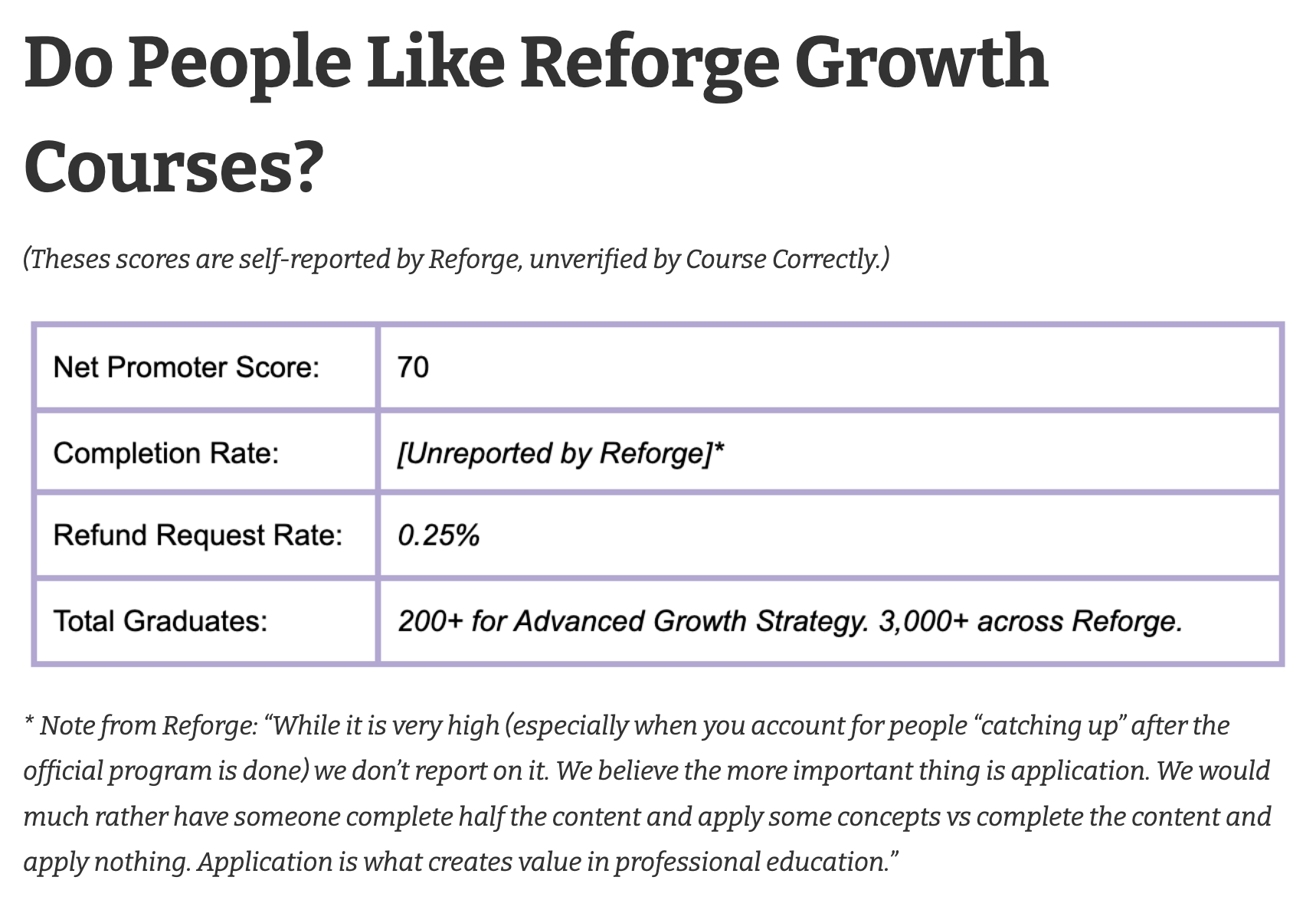 In this Reforge Course Review of the Advanced Growth Strategy program, Jorgenson likes that the courses are developed by credible and experienced professionals who have applied the concepts in their jobs. Instead of teaching just tactics, the course steps back and teaches unique, well-considered frameworks.
According to him, the main flaw (not a dealbreaker) is that the material includes several quantitative examples but does not provide step-by-step guidance in application. So, learners are on their own when it comes to applying frameworks to company data. He believes it would be useful if learners have private access to instructors or experienced students in such cases.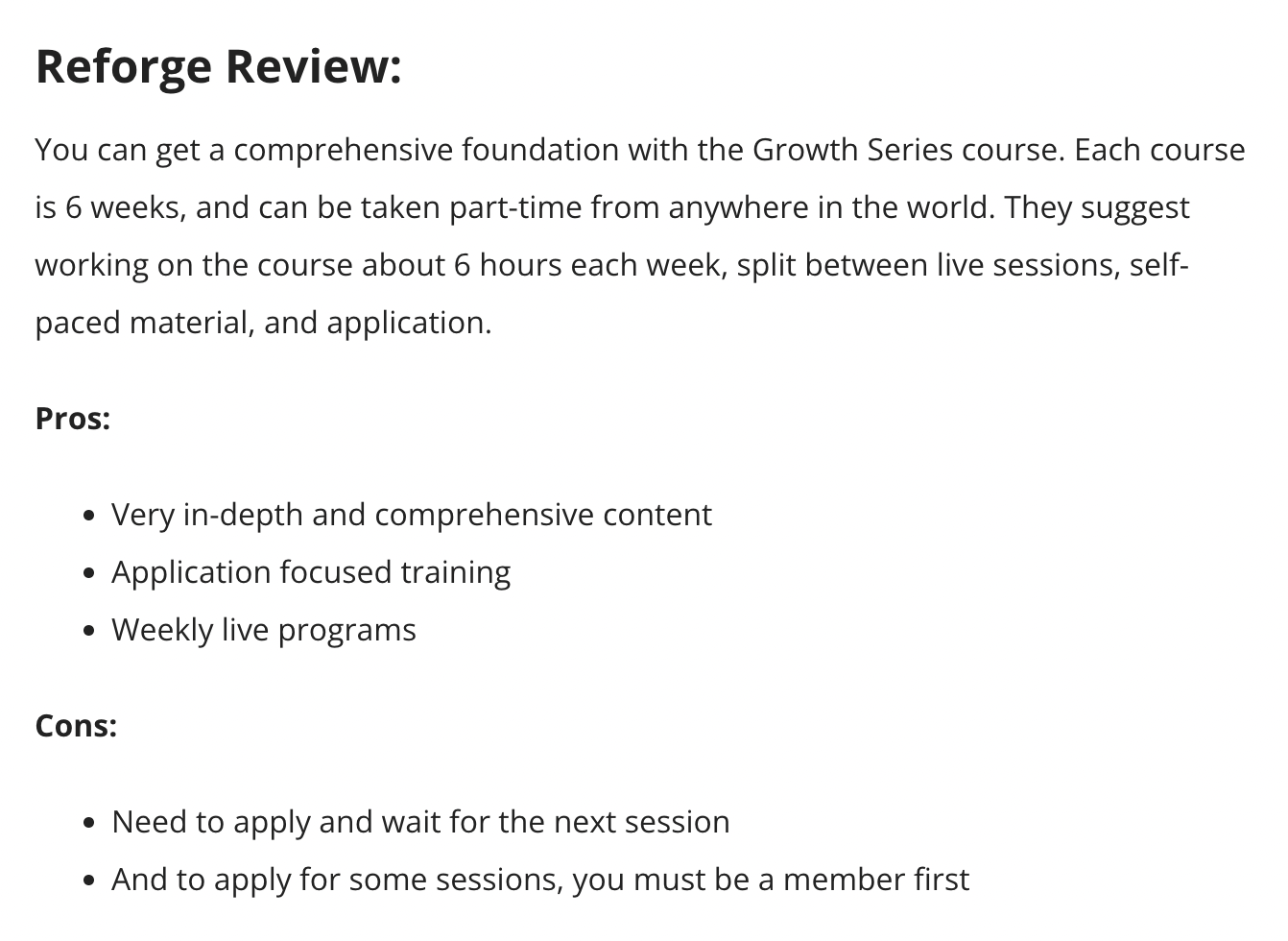 In this review of digital marketing online courses, Friedman writes that Reforge programs are comprehensive, in-depth, and application-focused, with weekly live sessions. The main drawback of the platform is that one needs to apply for the membership and wait for the sessions.
Udacity Reviews from Students
Tereschenko believes the course structure is perfect and that it is clearly built by practitioners, for practitioners. He also writes that the access it provides to top minds in global product management and peers from top companies across the globe is a definite advantage of the platform. One of Reforge's key drawbacks, he writes, is that the programs and Slack channels are slightly overcrowded. He also thinks that the selection process is unclear and needs to be more transparent.

Reforge provides a variety of templates: You get the bigger picture but you need to apply it within your context.
Other Schools vs Reforge Comparison
Course Topic
Reforge
Other Schools
Product Management

$1,995 for a yearly membership

Access to 3 live programs per year and on-demand access to other course materials
No certification
No access to course materials when membership expires

Senior Product Management Certification from Product School

Cost: $4,499

Single certification with 2 months live, online training
Certified Program
2-year access to course materials


Growth Marketing

$1,995 for a yearly membership

Access to 3 live programs per year and on-demand access to other course materials
No certification
No access to course materials when membership expires

 

Growth Marketing – Cornell Certificate Program

Cost: $3,600 or monthly @ $950 for 4 months


Certification from Cornell Johnson Graduate School of Management but does not carry academic credit
Cohort size: Under 35 students

Our 2022 Review of Reforge
Reforge is perfect for you if you are an experienced professional in tech, marketing, product management, or engineering. They state outright that the programs are not for educators, individual contractors, VCs, and professionals from pre-product-market fit companies. If you are a working professional looking to scale up your career, you should give Reforge a try.
The Pros
Perfect for experienced working professionals looking to accelerate their careers
Comprehensive, well-designed programs
Offers knowledge and frameworks that can be immediately applied at work
Built by seasoned experts for mid-career professionals
Access to other professionals facing similar challenges at work
Unlimited access to all course content from other programs with one membership
Ample resources such as case studies, active exercises, etc. to help apply theory in praxis.
The Cons
Not everyone who applies gets shortlisted for membership
The selection process is not transparent
The programs are fast-paced and intensive; keeping up with the schedule can be challenging
There are no private sessions with faculty or mentors for personalized guidance and feedback
The Slack channels can be noisy
Browse Other Course Topics